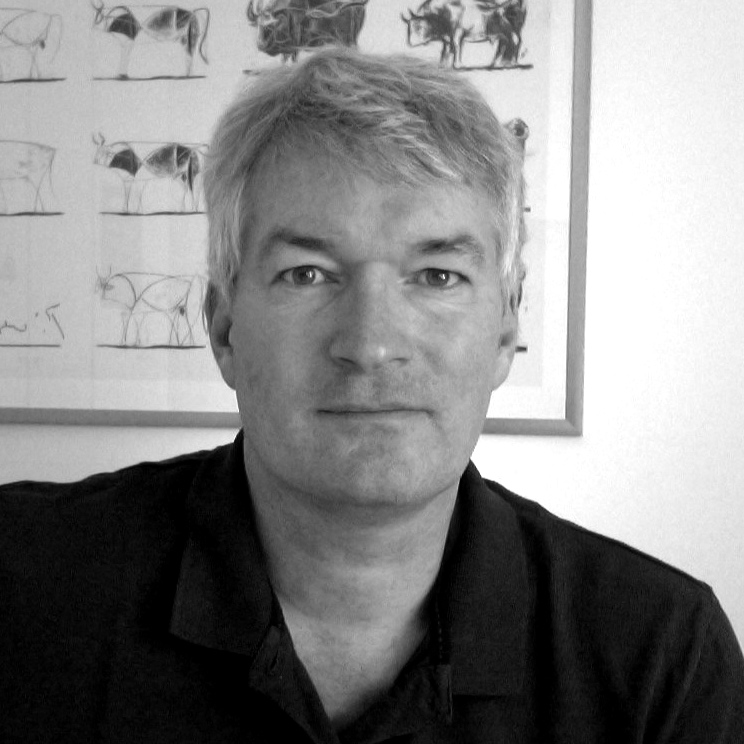 Biography
Peter Braunholz (b. 1963) studied Music, German philology, and Film. After working live and as a studio musician (among others with Patricia Kaas), composer and music producer, Peter was a freelance author, designer, and photographer for many companies, including Google, Hoechst, Mercedes, Porsche, Stollwerck and publishers, (Societäts-Verlag – F.A.Z.). Since 1999, he has concentrated on photographic art. His award-winning work has been shown worldwide, including at Musée du Louvre Paris, Arsenale di Venezia and other major art institutions. In 2018 he won International Architecture Photographer of the Year and in 2019 he resumed working on music projects.
INVISIBLE
Art is about the endotic, and photography has the power to separate and reveal the ordinary from the extraordinary. Peter finds hidden realities in the spaces around us. He sees the world through his trained eyes, leading to new stories in the area between appearance and reality.
Peter uses photography to explore layers of reality that appear unreal, manipulated or staged, but are actually part of our surroundings. He explores the immaterial quality of places and spaces, their poetic content and their fleeting identities. To see reality, one must train the mind more than perception.
Peter's images ask relevant questions and help us to understand and appreciate our surroundings.
TECHNIQUE
Peter works with Fuji medium format cameras and uses fine art papers from the German manufacturer Hahnemühle. His images are printed in highest quality with archival pigment on a top-quality Epson printer.
SELECTED INDIVIDUAL, GROUP SHOWS & FAIRS
Peter has taken part in a huge number in recent years, including:
AFF Galerie, Berlin
Angkor Photo Festival, Angkor
Art Photo Barcelona
Atlanta Celebrates Photog., Atlanta
Belfast Photo Festival
Benaki Museum, Athens
Berlin Art Week, Berlin
Biennale de l'image possible, Liege
Birmingham Museum
Black Country Museum, Dudley
Brighton Photo Biennial,
Burg, Kronberg im Taunus
Circulations Festival, Paris
Copenhagen Photo
Cultural History Museum, Osnabrück
Delhi Photo Festival, New Delhi
Dresden Public Art View, Dresden
Encontros da Imagem, Braga
Eyes on, Vienna
FestFoto, Porto Alegre
Festival della Fotografia Ethica, Lodi
Focus Photography Festival, Mumbai
Format Festival, Derby
Foto Solo, New York
Fotofestiwal, Lodz
Galerie Anja Knoess, Köln
Galerie Jones, Köln & Frankfurt
Galerie Julia Philippi, Heidelberg
Galerie Kerstner, Kronberg
Galerie Mäder, Basel
Galerie Wesner, Konstanz
Goethe-University, Frankfurt
Guatephoto, Guatemala City
Huantie Times Art Museum, Beijing
Indian Photo Festival, Hyderabad
Indian Photog. Festival, Hyderabad
Kallmann-Museum, München
Krakow Photomonth, Krakow
Kulturamt, Bad Homburg
Kunst Haus Wien – Museum Hundertwasser
Kunst Zürich
Kunstturm, Mücke
Kunstverein Böblingen, Böblingen
Kunstverein, Germersheim
Los Angeles Festival of Photography
Luxun Academy of Fine Arts, Shenyang
Mannheimer Kunstverein
Medium Festival, San Diego
Month of Photography, Denver
Mostra SP de Fotografia, Sao Paulo
Musée du Louvre, Paris
Museo D'Arte Contemporanea, Roma
Museum Hongrunhuaxi, Zhengzhou
Museum Sinclair, Bad Homburg
Odessa/Batumi Photo Days
Photo Bangkok Festival, Bangkok
Photo Romania Festival, Cluj
Photokina, Köln
Photomed, Sanary-sur-Mer
Photomonth, London
PhotOn Festival, Valencia
Porto Photo Fest, Porto
Positions, Berlin & Frankfurt
Rencontres – Prix du Livre, Arles
Scope Art, Miami
SF CameraWork, San Francisco
Sicily Photo Festival, Punta Secca
Tblisi Photo Festival, Tblisi
The Photography Show, Birmingham
Tiradentes Photo Festival, Tiradentes
Vienna Photobook Festival
Voies Off, Arles
SELECTED COLLECTIONS
Peter's work is collected around the world and is in the following:
Mezzanin Stiftung für Kunst, Liechtenstein
Huantie Times Art Museum, Beijing, China
Huaxia Art Museum, Zhengzhou, China
Italian Cultural Association MoCA, Venice, Italy
Kulturamt des Hochtaunuskreises, Bad Homburg
Kunstverein, Germersheim
Kali+Salz AG, Kassel
Scimus Consulting GmbH, Köln
Fides GmbH, Köln
as well as numerous renowned private collectors